Lamb Shank Buglama
Buglama, also known as Bugulama, is a traditional lamb recipe from Azerbaijan, Turkey and the surrounding area. A sort of stew often made from bone-in cuts like our bone in lamb and goat, it's special in that no additional liquid is added to the pot as the meat and vegetables steam, meaning that they cook in their own juices, making for a rich and very special stew with a minimal amount of liquid. It's delicious served with a bowl of freshly cooked rice.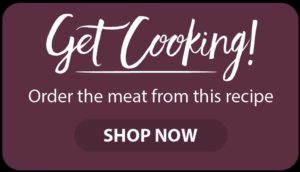 This recipe is by Chef Alan Bergo, the Forager Chef. A chef from Minnesota, Alan is a culinary industry veteran, former executive chef of acclaimed Lucia's Restaurant, and the Salt Cellar. Author of The Forager Chef's Book of Flora, he's one of the most respected voices in the world of foraging and wild food. He's best known as the founder of Forager Chef, his website focused on wild ingredients that reaches millions of readers each year. Learn more about Chef Alan and his hunt for mushrooms, wild and obscure foods at foragerchef.com. 
Looking to buy lamb or goat online? Shepherd Song Farm: Grass to table. We raise lambs & goats traditionally, humanely and sustainably. 100% Grass Fed, Pasture Raised, Never Confined, no Hormones, Grains or Animal Byproducts. Born, raised and processed in the U.S.A. Good for you and good for the environment.
Print Recipe
Lamb or Goat Shank Buglama
Tender lamb or goat shanks steamed with onions, peppers and herbs. Serves 2-4
Ingredients
2

lbs

lamb meat on the bone

such as shanks, or a combination of shoulder and ribs trimmed of their fat

2

large bell peppers

cut into 1 inch strips

2

medium yellow onions

cut into 1 inch strips

2

small red jalapenos

cut into 1 inch strips (you can substitute ¼ teaspoon of crushed red pepper)

2

large cloves garlic

thinly sliced

3

fresh bay leaves or 2 dried

1

teaspoon

fresh ground black pepper

divided in half

2

teaspoons

kosher salt

divided in half

6

roma tomatoes

Small handful fresh cilantro or dill, to garnish
Instructions
Bring 3 quarts of water to a boil.

Cut out the cores from the tomatoes, then score the other side with an X using a paring knife. Blanch the tomatoes in the water for 1-2 minutes, or until you can see the skin loosening where the X was cut.

Transfer the tomatoes to a bowl, rinse with cold water, peel, squeeze out the seeds and discard, then chop roughly and reserve.

Mix together the onions, peppers, remaining salt and pepper, and the garlic.

In a dutch oven or other baking dish with a lid that can accommodate all ingredients, make a layer of onions, peppers and garlic, then add the meat and bay leaves.

Bury the meat in the remaining onion-pepper mixture, ending with the tomatoes. Top with a piece of parchment, put the lid on the pot and bake for 3-4 hours at 250, or until the meat easily moves from the bone.

Remove the pot from the oven, skim any visible fat, taste the cooking liquid and season it to taste with salt until it tastes good to you. Carefully stir in the fresh cilantro or dill to taste.

Serve the meat, vegetables and juices with rice and garnish with fresh chopped cilantro or green onions.
Video