Lamb Sunday Gravy
Do you like meat? And pasta? If so, you'll love Sunday gravy, as it's basically a meat lovers paradise.
An Italian American tradition, Sunday gravy, like it's name implies, is typically made on Sundays and weekends, since most people have more time to let something simmer all day on the stove. I tasted my first version of it when I was a chef at The Chambers Hotel in Minneapolis working under Chef John Occhiato at D'amico Cucina, the Flagship Restaurant of the D'amico company, known around the Twin Cities for their string of fast-casual restaurants, as well as fine dining locations dotted throughout the cities.
There's as many recipes for Sunday gravy as there are stars in the sky, but one thing that chef told me that I remembered was that it should always include multiple types of meat. At the restaurant, we made a version with whole chickens and sausages, along with pork shoulder leftover from the previous night's service, but I think it's totally fine to make one using all cuts from one animal, like I've done here with Shepherd Song's lamb and goat.
I like to make sure that there's some difference in texture and shape to the meats, and I like to make sure I use at least one cured meat, like sausage or meatballs. Think of the recipe as an invitation to experiment with a few of your favorite cuts, just try to keep in mind that you should be able to tell the different cuts apart when they're eaten. For example, I wouldn't use pulled pork shoulder and pulled chicken in the same Sunday gravy, but I might use pulled chicken and pork sausage. Here's a few things I'd keep in mind, along with a different combinations of lamb and goat you might try.
Chefs Tips for selecting meats
You want a variety of textures, I like one roast or something with a bone that can be shredded or pulled, one cured meat, like a sausage, ham, salami or meatballs (or a combination) and one "wild card" which could be whatever you like or have on hand. For the wild card here, I used tongue, since it keeps it's shape and is easily diced.
A few combination ideas
Sausage, shoulder and tongue
Meatballs, neck, and shank (diced)
Bone in goat or lamb, sausage, and sweetbreads (blanched and chopped)
Ground lamb, sausage and pieces of braised, pulled shoulder or saratoga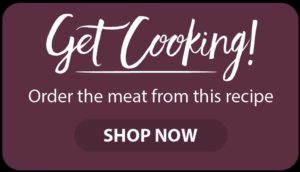 This recipe is by Chef Alan Bergo, the Forager Chef. A chef from Minnesota, Alan is a culinary industry veteran, former executive chef of acclaimed Lucia's Restaurant, and the Salt Cellar. Author of The Forager Chef's Book of Flora, he's one of the most respected voices in the world of foraging and wild food. He's best known as the founder of Forager Chef, his website focused on wild ingredients that reaches millions of readers each year. Learn more about Chef Alan and his hunt for mushrooms, wild and obscure foods at foragerchef.com. 
Looking to buy lamb or goat online? Shepherd Song Farm: Grass to table. We raise lambs & goats traditionally, humanely and sustainably. 100% Grass Fed, Pasture Raised, Never Confined, no Hormones, Grains or Animal Byproducts. Born, raised and processed in the U.S.A. Good for you and good for the environment.
Print Recipe
Lamb or Goat Sunday Gravy
A rich pasta sauce made with three different cuts of lamb or goat. Makes 4-6 generous portions.
Ingredients
Sunday Gravy
1

saratoga

or another bone-in piece of meat weighing roughly 1.75 lbs

10

oz

lamb sausage

preferably flavored with fennel seed, like our lamb Italian sausage

1 6

oz

tongue

https://shepherdsongfarm.com/shop/organ-meats/lamb-tongue/

5

cloves

garlic

1 8

oz

onion

¼

cup

dry white wine

2

large cans tomato

pureed and strained to remove seeds

Kosher salt and fresh ground black pepper

to taste

2

dried bay leaves

2

tablespoons

rendered lamb tallow or cooking oil
Serving
Grated parmesan

½

tablespoon

unsalted butter per serving

Small handful of chopped Italian parsley

Cooked pasta

4-5 oz per person, preferably a shell or hollow type such as rigatoni, penne or conchiglie
Instructions
Sunday Gravy
Season the Saratoga or other chunk of meat all over with salt and pepper. In a dutch oven or other braising pot with high sides, heat 1 tablespoon of the oil and brown the Saratoga on all sides on medium-high heat, take your time, this will probably take about 20 minutes, but will help build good flavor in the finished dish. Preheat the oven to 275 F.

Remove the Saratoga, discard the spent/cooked oil, replace with another tablespoon of fresh oil, and brown the sausages and the tongue, then add the onions and garlic and cook for a few minutes more. Add the wine to the pan, stirring to loosen any brown bits, then add the tomato puree and the Saratoga back to the pot, along with the bay leaves.
Cooking
Transfer the pot to the oven and bake for 2.5 hours, or until the meat from the Saratoga moves freely from the bone. You can also simmer the pot on the stove, but it's easier for it to splatter and make a mess. After cooking, remove the pot from the oven and cool to room temperature, uncovered, then chill.
Chill and remove the fat
Scrape the congealed fat from the top of the dish and discard, then warm the sauce up to room temperature on medium heat. Remove the tongue, Saratoga and sausages from the pot. Using gloves to handle the meat, cut the meat from the Saratoga and then cut it into 1 inch pieces. Cut the sausages into ½ inch coins. Peel the tongue and cut into ½ inch cubes. Add the cut meats back to the pot.

Simmer the sauce for another 20-30 minutes on medium-low heat to reduce it and remove some of the water, double check the seasoning for salt and pepper and adjust as needed, then prepare to serve.
Serving
To serve, for each 4-5 oz of cooked pasta, heat up a heaping cup of sauce. Warm the pasta in the sauce, adding the butter and mixing until incorporated. When the sauce is hot, toss in the parmesan and parsley to taste, and serve.