Lamb Stuffed Cabbage
Lamb-stuffed cabbage is my take on an old, Winter-time dish well known in cold areas of Eastern Europe. Cabbage is often overlooked in our modern era for cooking, it's thought of as something to shred and make into coleslaw, or eat with corned beef on St. Patrick's Day. Cabbage is so much more though, and stuffing it is a great introduction into the different possibilities of things you can make with it if you have a little time to prepare.
To make it, you take a head of cabbage (I used a savoy cabbage here, but a green cabbage will work well too) blanch it in boiling salted water for a few moments and cool, then carefully remove the core, pack it full of meat stuffing, wrap it in cheesecloth, and poach, steam, or bake it. After cooling to keep it's form, you reheat it and cut into wedges, serving it with a ladle of the cooking liquid. It's an ode to the creativity of the cooks of old who made due with what they had, and worth trying if you're craving something new to make with your ground lamb or goat.
The stuffing is very simple: you cook some chopped onion with the core of the cabbage, then mix with ground meat, walnuts (I used black walnuts but regular walnuts are fine, or skip them) breadcrumbs and egg, then form it into a ball and pack it back into the cabbage. The finished stuffed cabbage is steamed with meat stock (preferably with a good handful of dried mushrooms) and served with a ladle of the stock. It's a fun way to use up ground meat, and a good way to stretch less than a pound of meat to serve a small group of people.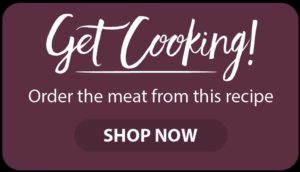 This recipe is by Chef Alan Bergo, the Forager Chef. A chef from Minnesota, Alan is a culinary industry veteran, former executive chef of acclaimed Lucia's Restaurant, and the Salt Cellar. Author of The Forager Chefs Book of Flora, he's one of the most respected voices in the world of foraging and wild food. He's best known as the founder of Forager Chef, his website focused on wild ingredients that reaches millions of readers each year. Learn more about Chef Alan and his hunt for mushrooms, wild and obscure foods at foragerchef.com. 
Looking to buy lamb or goat online? Shepherd Song Farm: Grass to table. We raise lambs & goats traditionally, humanely and sustainably. 100% Grass Fed, Pasture Raised, Never Confined, no Hormones, Grains or Animal Byproducts. Born, raised and processed in the U.S.A. Good for you and good for the environment.
Print Recipe
Lamb Stuffed Cabbage
A old-timey dish of cabbage stuffed with lamb sausage and walnuts is an interesting way to enjoy cabbage and stretch a small amount of meat.
Equipment
Steamer basket or large pot for cooking
Ingredients
Cabbage
1

large savoy or green cabbage
Stuffing
12

oz

ground lamb

¾

teaspoon

kosher salt

plus more to taste

½

a medium onion

grated, about ¼ cup

1

large eggs

Fresh cracked black pepper

to taste

2

oz

crustless soft bread

or ¼ cup breadcrumbs

¼

cup

milk

¼

cup

black walnuts or other nuts

optional

2

Tablespoons

fresh oregano

1

teaspoon

fresh ground coriander

2

Tablespoons

rendered lamb fat or cooking oil

Small handful of chopped Italian parsley
Cooking
1

large egg

beaten, for the cabbage leaves

4

cups

lamb stock

vegetable stock, or water

10

grams

dried wild mushrooms

such as porcini or black trumpet
Instructions
Blanch and remove the cabbage core
Bring a gallon of water to a boil, add the cabbage, turn the heat off, and set a timer for 5 minutes. Remove the cabbage, rinse with cold water for a minute or two, then drain and put on a cutting board, stem down, with a towel nearby as water will continue to weep a bit after it's removed from the pot.

Remove the outer layer of leaves from the cabbage if they look torn, soft, or unattractive.
Stuffing the cabbage
Continue peeling leaves back, keeping them attached to the stem, until you reach the still-raw core. Remove the core carefully using a paring knife, chop medium-fine, and add to a mixing bowl.

Trim off the bottom of the core from the cabbage.

Sweat the onions for 4-5 minutes in the oil, add the chopped cabbage core and sweat for a minute more, then add to the remaining stuffing ingredients in a bowl, mix well, form into a ball, and pack into the center of the cabbage.

Take the beaten egg and brush the leaves in between each layer to help the stay put as the cabbage cooks.

Finally, press the cabbage gently to flatten it, then tie with butchers twine, or wrap in cheesecloth.
Cooking
Pour the 4 cups of stock into a pot wide enough to fit the cabbage, crumbling the mushrooms and adding them, then add a steam insert to the pot, place the cabbage on top, cover with a lid, bring to a boil, then turn the heat down to low, and cook, covered, for another 45 minutes, or until cooked through.
Serving
Remove the cabbage carefully to a cutting board, double check the seasoning of the steaming liquid, adjust with a pinch of salt if needed. Carve the cabbage with a sharp knife and serve. Pass the stock from the pan alongside as a drinking broth, or serve the wedges in a bowl, spooning the broth over the top.