Lamb Crackling Tacos (Chicharrones de Borrego)
Lamb crackling tacos, or chicharrones de borrego, are a magical little recipe I developed after working with the fat caps that are taken off of racks of lamb and goat when my friends at Shepherd Song have extras of them. I've worked in kitchens where this cut of meat is seen as an unusable piece of trim—something to throw away as it's too fatty to leave on the rack for some guests (they can make a grill ignite) and too fatty for the stock pot. But, if you're still reading, you're probably getting the picture that seeing this cut as something to toss out for the birds is a crime, and you're right.
Fat caps from lamb and goat racks aren't too fatty to use at all—just the opposite. Fat caps have a unique composition that is mostly fat, but there's some meat in there too. So, if you're a chef who has some, or a home cook who would like to order some (Shepherd Song occasionally has them in stock, but you'll need to ask) you can use them to make one of the most delicious dishes  of lamb or goat I've eaten in a really long time. It's genius, really, and we have Latin American cuisine to thank. (Quick side note for the industrious cook, you can also use this cut, as well as boneless ribs, to make pancetta, and bacon).
In Latin America, chiccharones, the cracklings left over from rendering lard, have lots of uses. This specific dish was inspired by chiccharon prensado, a sort of pressed brick of pork cracklings. Our lamb cracklings aren't exactly the same, but they're close enough, and a better place to start out if you're new to cooking with cracklings as there's no chance of flubbery pieces, which can turn some people off, especially in America.
What you do, is take the fat caps from lamb or goat racks (belly or trim from the ribs can work too) cut it into little cubes, and render it slowly until all the cubes are browned and delicious, and the fat has rendered out. The bonus here is that you'll have leftover fat to cook with (try using it to make delicious roasted potatoes) as well as a rich serving of meat you can use for tacos or simply with masa cakes, as I've demonstrated.
The end product is so delicious. The crispy chunks of lamb crackling soften a bit,  but it's not like eating chunks of fat, they stay firm, with a good bite to them. Bathed in gently spicy guajillo chili sauce, they're one of the best taco filings I've eaten in a very long time. Serve them in warmed corn tortillas, or spooned over masa cakes with a salad made with avocado and greens dressed with lime juice, or a cabbage slaw flecked with carrots and diced tomatoes like curtido.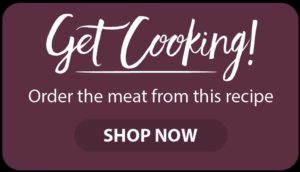 This recipe is by Chef Alan Bergo. A chef from Minnesota, Alan is a culinary industry veteran, former executive chef of acclaimed Lucia's Restaurant, and the Salt Cellar. One of the most respected voices in the world of foraging and wild food, he's best known as the founder of Forager Chef, his website focused on wild ingredients that reaches millions of readers each year. Learn more about Chef Alan and his hunt for mushrooms, wild and obscure foods at Forager Chef®. 
Looking for lamb or goat kidneys online? Shepherd Song Farm: Grass to table. We raise lambs & goats traditionally, humanely and sustainably. 100% Grass Fed, Pasture Raised, Never Confined, no Hormones, Grains or Animal Byproducts. Born, raised and processed in the U.S.A. Good for you and good for the environment.
Print Recipe
Lamb Cracklings in Gaujillo Sauce (Chicharrones de Borrego)
A traditional method for using very fatty cuts of meat braised in a rich guajillo sauce. Serve with lamb fat masa cakes, as a tamale or taco filling. Yield: 4 very generous entrée portions
Ingredients
3

lbs

lamb or goat fat caps

belly, or boneless ribs

5

large dried guajillo chilis

7

oz

or 3 small tomatillos

husk removed

4

cloves

of garlic

unpeeled

3

oz

white onion

half of one medium-sized onion

2

cups

lamb stock or water

2

teaspoons

kosher salt

plus more to taste

1

teaspoon

fresh ground cumin

2

teaspoons

dried marjoram or oregano
Instructions
Render the cracklings
Preheat the oven to 300. If using fat caps, or a very fatty cut, freeze the meat for 30 minutes to firm up. Dice the meat with a heavy knife into ½ inch cubes.

Put the meat into a braising pan, like a dutch oven, and bake for 2.5-3 hours, or until the fat is nearly completely rendered, mashing the meat around carefully with the back of a wooden spoon or potato masher here to speed the process and make a mash of cracklings.

Resist the urge to put the pan on the heat to render the fat quicker if you want to reserve the leftover fat for cooking (there could be 2-4 cups depending on the cuts you use). When the fat is rendered, carefully strain the meat and return to the pan, and continue to crisp on low heat while you toast the ingredients for the guajillo sauce.
Gaujillo Sauce
For the guajillo sauce, in a cast iron skillet or on a grill, toast the dried chilis on each side until lightly colored. Remove the chilis, crack them open, discard the seeds from the chilis, and combine with the lamb stock and rehydrate.

Remove the chilis, then add the onion, cut side down, along with the unpeeled garlic cloves and tomatillos.

Lightly char the onion, tomatillo and garlic cloves over medium heat, then remove the peel from the onion and garlic cloves and put in a blender with the tomatillo, salt, chilis and their liquid. Puree the mixture until very smooth, then pour into the pan with the cracklings, simmer for 10 minutes.
Serving
Double check the seasoning, chill completely and reserve until needed. The braised cracklings will keep for 5 days. Serve on masa cakes, or as a taco or tomale filling.