Dry-Rubbed Lamb Breast or Brisket
Wondering what you could make with a lamb or goat breast? After listening to your requests (we love hearing requests and ideas from our customers!) we started cutting whole lamb and goat breast, leaving them intact in one large piece. Those of you who know and love this cut know what to do with it: low and slow is the way to go for great flavor, and melt-in your mouth meat.
A lamb or goat breast is the same as the brisket on a cow, or pig, just smaller. Breast is just the name applied to the cut, but, just like brisket, it will benefit from all your favorite barbecue and smoking techniques if you're familiar with cooking other meats like that, although it will cook much quicker than a beef brisket as it's thinner and smaller. A nice dry rub and a slow roast in the oven (or in a smoker) is a fantastic way to cook this cut, and I can pretty much guarantee that people will be fighting over the leftovers. I worked on a simple dry-rub inspired by my favorite blackening seasoning here, but feel free to use any rub you like. I like my dry rub a little spicy.
It's easy to make: just season the meat all over with salt, apply the rub, let it sit overnight for the flavors to develop, then cook it in the oven or in a smoker until the meat is tender and can be shredded with a fork. For the best texture and flavor, I let the breast rest and chill overnight or for at least a few hours before cutting into it, which will help it firm up and make it easier to cut into bite-sized pieces. If you cut into the meat while it's warm, fresh out of the oven, it will still taste good, but it may fall apart. It takes a little time, but I think you'll agree it's well worth the small amount of effort it takes to prepare.
Chill the breast after cooking for the best texture
As for cooking the finished breast, this isn't something that I generally serve in large pieces, although making it into a roulade as I did in another recipe here works well. I prefer to cut the meat into bite-sized pieces and toss it into mixes of vegetables, pasta, or other preparations where I might have different pieces of bite-sized ingredients in a dish, like a seasonal vegetable hash.
Want more ideas? Take a look at How to Cook Lamb Breast / Brisket + Recipes.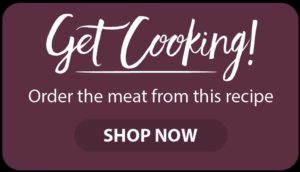 This recipe is by Chef Alan Bergo, the Forager Chef. A chef from Minnesota, Alan is a culinary industry veteran, former executive chef of acclaimed Lucia's Restaurant, and the Salt Cellar. Author of The Forager Chef's Book of Flora, he's one of the most respected voices in the world of foraging and wild food. He's best known as the founder of Forager Chef, his website focused on wild ingredients that reaches millions of readers each year. Learn more about Chef Alan and his hunt for mushrooms, wild and obscure foods at foragerchef.com. 
Looking to buy lamb or goat online? Shepherd Song Farm: Grass to table. We raise lambs & goats traditionally, humanely and sustainably. 100% Grass Fed, Pasture Raised, Never Confined, no Hormones, Grains or Animal Byproducts. Born, raised and processed in the U.S.A. Good for you and good for the environment.
Print Recipe
Dry-Rubbed Lamb or Goat Breast
Delicious, tender lamb or goat breast with a mildly spicy dry rub. Chill it and cut into pieces before reheating for the best result.
Ingredients
1

whole lamb or goat breast

1

teaspoon

kosher salt
Dry rub
Yield: about 1/3 cup

2.5

tablespoons

Smoked paprika

1

teaspoon

garlic powder

2

teaspoons

onion powder

1

teaspoon

dried thyme

1

teaspoon

ground coriander

1

teaspoon

ground fennel seed

1

teaspoon

fresh ground black pepper

1/2

teaspoon

cayenne pepper
Instructions
Rub the breast
For the rub, mix all the ingredients together in a bowl. Remove the lamb breast from the package and unroll into a flat sheet. Season the lamb or goat breast all over with salt, then liberally apply 2 tablespoons of the rub. Allow the breast to rest, wrapped in clingfilm or in a covered container overnight, or for at least 8 hours.
Cooking
To cook the lamb breast, preheat the oven to 325 F. Cover a baking sheet with a piece of parchment, then cook the breast for 1 hour, turning it over at the 30 minute mark. Reduce the heat to 250 F and continue cooking, basting occasionally with it's fat and juices for another 1-1.5 hours, or until the meat is tender and easy to cut. Remove the pan from the oven and allow the breast to cool, then refrigerate to make it easy to cut. You can save the fat in the cooking dish for cooking potatoes, reheating the lamb breast itself, or starting the vegetables for a soup-it's delicious.
Serving
To serve the breast, cut it into bite-sized pieces and brown in a pan. It's rich, melt-in-your mouth deliciousness, and is great tossed into a pan of simply cooked vegetables as a hash for any meal of the day.
Serving suggestion: Simple Vegetable Hash
To make a simple vegetable hash, cut a mix of vegetables into bite-sized pieces, and saute them quickly over high heat, a couple minutes before the vegetables are tender, move them to the side of the pan and add the pieces of lamb breast, cooking them on high until they just start to brown. Toss in a small handful of fresh chopped herbs you like, and serve. I like to put a "swoosh" of spicy mayo or another condiment in a bowl before I spoon in the lamb and vegetables.