Goat Chops with Potato Pave and Charmoula
Goat chops served with incredible gratin potatoes! Goat chops can be fantastic seared at a high heat and can be paired with anything. Here we show you how to create delicious cheesy potatoes that are slow cooked and then pressed in a brick of cheesy goodness. They are then griddled in butter and coated in tahini and spicy yet acidic charmoula. The fatness of the tahini sour spicy of the charmoula and seared goat, will impress anyone because of the balanced flavors. It's a little prep before you dine with family or friends, but once the potatoes are made you can serve them up in a few days by warming them up in the oven.
This recipe is by chef Ben Spangler. Hailing from Minnesota, Ben draws from his Midwestern roots to create dishes that are unpretentious and delicious. Ben has competed on national television for the Food Network and appeared on local Minneapolis food networks. He is currently working on a new ice cream concept in Minneapolis. Chef Ben Spangler www.benimagination.com Video By: BSPAD www.bspad.com
Looking to buy lamb or goat online? Shepherd Song Farm: Grass to table. We raise lambs & goats traditionally, humanely and sustainably. 100% Grass Fed, Pasture Raised, Never Confined, no Hormones, Grains or Animal Byproducts. Born, raised and processed in the U.S.A. Good for you and good for the environment.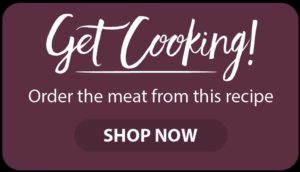 Print Recipe
Goat Chops with Charmoula, Tahini Sauce, and Potato Pave
Grass fed goat chops with tahini, spicy charmoula, and a potato pave.
Ingredients
Goat Chops
Tahini Sauce
4

oz

Tahini

stirred

2

T

Garlic

minced

2

oz

Lemon juice

4

oz

Water

Salt/ Pepper
Charmoula
½

c

chopped Parsley

½

c

chopped mint

1

T

Garlic minced

1

T

paprika

1

t

red pepper

1

t

cumin

4

oz

evoo

2

oz

lime juice

salt/ pepper

to taste
Potato Pave (see recipe below)
Instructions
Charmoula
Add all ingredients except lime juice & garlic into mortar and pestle, grind into a paste then add lime juice and garlic, then stir to combine.
Tahini sauce
Soak minced garlic in lemon juice for 30 min and then strain out into tahini paste slowly wisk together and while whisking add water to become a slightly viscous sauce.
Cook and Serve
Season chops lightly with salt. Pan sear Lamb chops fat side first, then the sides. Allow to rest 5 min.

When the pave is warm, put on a plate and sauce with chermoula & tahini, about 1oz each. Garnish with fresh apples and cilantro. Serve.
Video
Potato Pave
Potato pave comes from the French term for pavement, meaning square. It's a delicious recipe for layered, cheese potatoes.
Equipment
Deep 4-6 inch mold or baking dish
Ingredients
4

large russet potatoes

3

c

gruyere shredded

1

c

pecorino ramono cheese shredded

½

stick of butter

Salt/ Pepper

1

qt

heavy cream
Pave Cream
2

Tablespoons

chopped garlic

1

Tablespoon

Fresh thyme

1

Tablespoon

black pepper
Instructions
Pave Cream
Heat the ingredients for the pave cream and simmer on the lowest heat possible for 20 minutes. Cool and reserve.

Slice potatoes 1/8th " thick and square off edges

Lay paper in bun pan (be sure to have 2 of the same pans) I used my terrine molds

Spray the mold with oil and begin to shingle potatoes only slightly overlappying each potato season with salt and pepper, 2 tablespoons of of pave cream, 3 dollops of butter, 1.5oz gruyere, .5oz pecorino ramano, then repeat

Once you've repeated this all the way to the top of your pan, cover and bake for 1 hr. (@325F) The size of your pan will determine the total time in the oven. Once removed from the oven after an hour try using a small knife to check for resistance put back into the oven with no lid until completely tender.

once easily pierced with a knife pull from the oven and let sit at room temp for 1 hour and place your second pan on top with 5 lbs. of pressure. Place in fridge and allow to completely cool overnight or 3 hours. This will allow it to set in shape. Remove from the pan and cut into quarters or bigger or smaller and griddle in a pan with butter, sear on one side and flip over and sear the other. Be sure it is warmed all the way through.