Lamb and Puffball Mushroom Cannelloni
Lamb and puffball mushroom cannelloni is a fun variation on the Italian American classic featuring one of my favorite fall mushrooms in the Midwest.
During the late summer and fall, puffball mushrooms can often be numerous around the edges of woods and open fields, and there is a long tradition of eating them dredged in cracker crumbs, fried like a piece of meat, which is also good.
One of the most interesting and versatile attributes of the mushroom is their shape: a large white orb, that, after cooking, can be cut into different shapes. One of my favorite things to do with the often large slices of mushroom is to use them like noodles.
To prepare them, first the mushrooms need to be cleaned, and the bottoms trimmed to remove any damage from bugs or insects, which is common and to be expected. After the mushrooms are cleaned, they're cut into slices using a long, sharp knife, browned on a griddle, then wrapped around the same filling you would use for regular cannelloni made with pasta, topped with tomato and bechamel sauce, finished with cheese (here I use goat mozzarella) and baked until golden brown.
It's a great way to use puffball mushrooms, and makes for a very rich dish. As puffball "noodles" aren't made with flour, if you're sensitive to glutinous pasta, it's also gluten-free, just use your favorite gluten-free breadcrumbs in the stuffing and gluten free flour in the roux for the white sauce.
If you don't have puffball mushrooms, use crepes
You can always use your favorite pre-made pasta sheets, for regular cannelloni, and, as an alternate, easier option, my chef from Rome used to have us make cannelloni with crepes instead.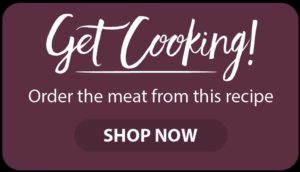 This recipe is by Chef Alan Bergo, the Forager Chef. A chef from Minnesota, Alan is a culinary industry veteran, former executive chef of acclaimed Lucia's Restaurant, and the Salt Cellar. Author of The Forager Chef's Book of Flora, he's one of the most respected voices in the world of foraging and wild food. He's best known as the founder of Forager Chef, his website focused on wild ingredients that reaches millions of readers each year. Learn more about Chef Alan and his hunt for mushrooms, wild and obscure foods at foragerchef.com. 
Looking to buy lamb or goat online? Shepherd Song Farm: Grass to table. We raise lambs & goats traditionally, humanely and sustainably. 100% Grass Fed, Pasture Raised, Never Confined, no Hormones, Grains or Animal Byproducts. Born, raised and processed in the U.S.A. Good for you and good for the environment.
Print Recipe
Lamb and Puffball Mushroom Cannelloni
A variation on the Italian American classic using puffball mushroom slices in place of noodles. It makes for a rich, satisying dish. Makes about 20 cannelonni (cut the recipe in half if you need)
Ingredients
Puffball mushrooms
1 3

pound

puffball mushroom

sizes will vary greatly
Lamb ragu
1

lb

ground lamb or goat

2

oz

lamb belly

or pork pancetta, finely chopped (optional)

3

cloves

garlic

1

rib of celery chopped

1

small carrot chopped

1

small onion chopped

1/2

cup

half and half

1/2

cup

dry white wine

1 14

oz

can whole peeled tomatoes

2

Tablespoons

tomato paste

1

dried bay leaves

1/2

tablespoon

chopped fresh thyme

or a pinch of dried thyme

1

teaspoon

kosher salt

Fresh ground black pepper

to taste

1

tablespoon

unsalted butter
Stuffing
½

cup

breadcrumbs

2

oz

parmesan (2 oz for filling, 2 oz for baking)

4

oz

grated goat mozzarella (2 oz for the filling, 2 oz for baking)
White sauce
1

cup

milk

2

Tablespoons

flour

2

tablespoons

unsalted butter

Fresh grated nutmeg

to taste, optional
Red Sauce
1

can whole peeled tomatoes

1

small onion

4

tablespoons

unsalted butter

Pinch

of crushed red pepper flakes

optional

2

tablespoons

tomato paste

Kosher salt

to taste
Instructions
Lamb Ragu
Process the carrot, onion and celery in a food processor until they're finely ground.

Sweat the lamb bacon in the butter for 3-4 minutes, then add the ground lamb and cook until the pan is nearly dry. Add the ground vegetables and cook for 5 minutes more. Add the tomato paste, wine, stock, and milk, along with the thyme and bay, bring the mixture to a simmer and cook for 45-60 minutes uncovered, on medium heat, or until the mixture is thick and most of the liquid has evaporated.

Cool the ragu, uncovered, then mix in the breadcrumbs, parsley, and cheeses, double check the seasoning for salt and pepper, adjust as needed, then add the egg. Chill the stuffing until needed.
Puffballs
Trim the stem of where the puffball attaches to the ground. Inspect the bottom diligently, trimming away any portions that have holes or are discolored. The puffball should be pearly white and pleasantly mushroom smelling, if it is at all yellow, greenish, or discolored, discard the whole thing as it will taste too strong and it beyond the stage for eating. Peel the outer skin from the puffball, then, using a long, sharp knife, cut it into slices or cut it in half if it is large, and cut it into half moons. This is not an exact science, as they're large, unwieldy mushrooms.

Prepare a griddle, having a brush with melted butter handy. Grease the griddle and brown the puffball slices one at a time on both sides, sprinkling them lightly with salt on each side. To help them cook and brown, you can put a bacon press or another weight on them (optional). Transfer the cooked slices to a baking tray, laying each hot, cooked puffball on top of the others.

When the puffballs are done and cooled, press them between paper towels firmly to dry them off and help remove residual water. From here the puffballs can be prepared ahead of time or frozen.
White Sauce
In a small 4 cup or similar capacity sauce pot, cook thebutter and flour, stirring to form a roux. Add the milk gradually,  whisking to break up any lumps. Cook thesauce for a few minutes, whisking constantly, until thickened. Add the nutmegand salt to taste, then pour into a container, cover with clingfilm to preventa skin from forming and reserve until needed. If the sauce tightens, refresh it with a splash of water-it should be spoon-able.
Red Sauce
Sweat the onion in the butter until translucent, then addthe tomato paste, a pinch of salt, and the crushed red pepper if using and cook 3 minutes more. Add the whole peeled tomatoes and cook for 20 minutes, then puree with a handblender. Allow the sauce to simmer for another 15 minutes or until thickened, double check the seasoning for salt and adjust as needed. If you are able, strain the sauce after pureeing to remove the seeds. Reserve the sauce and allow to cool.
Filling the cannelloni
Using a rolling pin or a meat mallet, gently roll the puffball slices out to compress and flatten them. Put ¼ cup (or more if you like) of filling on each slice of puffball, then roll them up. Trim the edges to make them an even shape if needed.

Spread ½ cup of the bechamel sauce on the bottom of a 13x9 inch baking pan or similar. Nestle the puffballs on top of the white sauce, then top them with a layer of the remaining white sauce, finishing with a drizzle of the tomato sauce. Top with 2 oz each of grated goat mozzarella and parmesan and bake at 375 30-45 minutes or until browned. They are best reheated after cooling overnight to allow the flavors to meld.
Video