Slow-Roasted Goat Shoulder with Spicy Dry-Rub
Goat and lamb shoulders are one of the easiest parts of the animal to cook, and one of the most delicious, especially if you and your family like fork-tender pulled meat (who doesn't!).
Here I have one of my favorite preparations: a goat or lamb shoulder rubbed with a spicy, homemade blackening spice blend, roasted slow wrapped in parchment, then cooked in a wood fired oven or smoker. If you don't have don't have a smoker with an adjustable heat setting, you can make a great version just using an oven heated to 250F.
It takes some time (about 5-6 hours) to cook the shoulder, but, besides seasoning the meat and wrapping in it parchment paper, it's all unattended, so you can go about your day, set a timer and come back to a delicious meal with little work at the end of the day. It's a great thing to make for a crowd as a shoulder will feed 4-6 people. The aroma, and delicious spicy rub that gets crisped as the meat slowly cooks are simply irresistible.
Serving options
There's a few different ways you can serve this.
The first is the easiest: just bring the shoulder to the table and allow people to carve or pull off pieces of meat.
If you like pulled meat, like carnitas, or want to use the slow-cooked shoulder to make tacos, sandwiches, or something similar, you can pull the meat and shred it with a fork, then heat it up in a pan, adding a bit of fat like cooking oil or lamb tallow, a splash of stock to keep it moist, and seasoning it to your taste. Add some of your favorite barbecue sauce and it will make a great sandwich!
It's a good picnic dish too-just add your favorite side dishes. Pictured is a simple dish of boiled potatoes cooked with lamb bacon and sochan-one of my favorite greens of spring and early summer.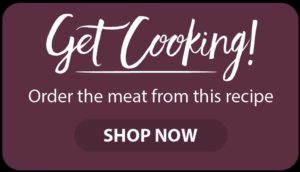 This recipe is by Chef Alan Bergo, the Forager Chef. A chef from Minnesota, Alan is a culinary industry veteran, former executive chef of acclaimed Lucia's Restaurant, and the Salt Cellar. Author of The Forager Chef's Book of Flora, he's one of the most respected voices in the world of foraging and wild food. He's best known as the founder of Forager Chef, his website focused on wild ingredients that reaches millions of readers each year. Learn more about Chef Alan and his hunt for mushrooms, wild and obscure foods at foragerchef.com. 
Looking to buy lamb or goat online? Shepherd Song Farm: Grass to table. We raise lambs & goats traditionally, humanely and sustainably. 100% Grass Fed, Pasture Raised, Never Confined, no Hormones, Grains or Animal Byproducts. Born, raised and processed in the U.S.A. Good for you and good for the environment.
Print Recipe
Slow-Roasted Goat Shoulder with Spicy Dry-Rub
Slow-roasted goat shoulder rubbed with a spicy blackening spice is a perfect dish for summer meals. Serves 6
Ingredients
Goat shoulder
1 3

pound

goat shoulder

1.5

teaspoons

salt

2

tablespoons

blackening spice
Small Batch Blackening Spice
5

tablespoons

sweet paprika

2

teaspoon

garlic powder

1

tablespoon

onion powder

2

tablespoons

dried thyme

1

tablespoon

ground black pepper

1

teaspoon

cayenne pepper

or more to taste
Instructions
Dry rub
Mix all the spices together until combined.
Goat Shoulder
Season the shoulder all over with salt and allow to rest overnight.

The next day, sprinkle liberally with the blackening spice, wrap it up in parchment like a package, and cook for 5-6 hours at 250F in a wood fired oven, a smoker, or just a regular oven until fork-tender.

You can cut off pieces of the shoulder and serve as pictured, but my favorite is to pull the meat while it's warm, then toss with salt and pepper to taste along with a little fat like lamb tallow and a splash of stock, heat it in a pan and use like carnitas for tacos and sandwiches.