Lamb Crackling Cornbread
Tender cornbread studded with rich, savory lamb or goat cracklings is a favorite recipe of mine that I adapted from one of my favorite childhood books: The Little House on the Prairie by Laura Ingalls Wilder.
In the companion cookbook to the book series, crackling cornbread is one of the recipes I had to make first, but, instead of pork cracklings, I used lamb, leftover from rendering jars of tallow from Shepherd Song. (We sell it, and you can buy it here).
If you're not familiar, cracklings, contrary to what most people assume, aren't pork rinds, which are fried pieces of skin (and delicious in their own right) rather, cracklings are the crisp pieces of fat and meat leftover from rendering tallow. Cracklings are very rich, so you won't be eating a bowl of them-they're best used as an accent to something. Folding them into cornbread is a delicious, and also traditional use for them that anyone skeptical of eating crisp pieces of fat will try, as well as tell you how good it was afterward.
To make the cracklings, you're going to need some fat, and the type of fat, it's location on the animal, as well as the proportion of meat to fat, will all make a slightly different crackling suited for different purposes. fat from the kidneys and other internal fat is good, rendered breast and rib fat will have more meat in it, helping it to stay extra crisp. For adding to cornbread, the type of fat here doesn't really matter though, so feel free to use whatever type of lamb or goat fat you can get your hands on. Kidney suet, caul fat, rib meat and other trim will all work just fine here.
For an extra flourish, I wrap the cornbread here in wild leaves I harvest. If you have some chard, kale, or grape leaves, you can use some of those, but it is completely fine all by itself cooked in a cast iron pan if you don't want to use the leaves, or don't have access to any. Think of it as an option for when you'd like to be creative.
Rendering tallow
If you've never rendered your own tallow before, you can refer to my post on rendering lamb or goat tallow at home here. You'll need a slow cooker for the best result.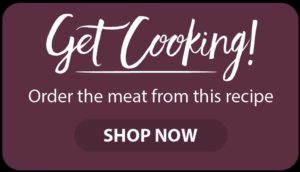 This recipe is by Chef Alan Bergo, the Forager Chef. A chef from Minnesota, Alan is a culinary industry veteran, former executive chef of acclaimed Lucia's Restaurant, and the Salt Cellar. Author of The Forager Chef's Book of Flora, he's one of the most respected voices in the world of foraging and wild food. He's best known as the founder of Forager Chef, his website focused on wild ingredients that reaches millions of readers each year. Learn more about Chef Alan and his hunt for mushrooms, wild and obscure foods at foragerchef.com. 
Looking to buy lamb or goat online? Shepherd Song Farm: Grass to table. We raise lambs & goats traditionally, humanely and sustainably. 100% Grass Fed, Pasture Raised, Never Confined, no Hormones, Grains or Animal Byproducts. Born, raised and processed in the U.S.A. Good for you and good for the environment.
Print Recipe
Crackling Cornbread
Cornbread studded with lamb or goat cracklings leftover from rendering tallow is a rich, savory variation on a classic. Yield: One 10 inch cast iron skillet (shorter/more portions) or one 8 inch cast iron skillet (tall wedges) or one serves 6-8
Ingredients
1

cup

cornflour

1

cup

all purpose flour or equivalent

¾

cup

coarsely chopped lamb cracklings

leftover from rendering tallow. You will need to render about 3 lbs of tallow to get the needed amount of cracklings.

1.5

teaspoons

kosher salt

2

teaspoons

baking powder

1

cup

buttermilk

4

ounces

1/2 cup rendered lamb fat

½

cup

white sugar

1

egg
Instructions
Preheat the oven to 350F

6-8 large wild leaves or similar, such as chard, grape, hop, milkweed, amaranth, or cabbage leaves (optional)

Method

Blanch the leaves in lightly salted water until just wilted (about 5 seconds) and set aside to cool.

Meanwhile, warm the chopped cracklings in the lard and set aside to cool.

In a bowl, mix the flour, baking powder, salt, and sugar.

Add the eggs, warm cracklings, lard, buttermilk and cornmeal, mix well, then fold in the flour until thoroughly combined.

Pour the batter into a greased 10 inch cast iron skillet and bake at 350 for 20 minutes, or until a skewer stuck in the middle comes out clean. Serve hot from the pan with soft butter and maple syrup, if desired.