Goat Tsigarelli
Tsigarelli is a traditional dish of wild greens from Crete made with leafy greens, garlic, onions and hot paprika. Traditionally, most recipes are just greens, but there's so many similar dishes around the world that include meat that I was inspired to add some to make a simple meal one evening in the spring I liked so much I put it on regular rotation at my house. Adding goat or lamb is the perfect choice as the animals are enjoyed in the region and are well adapted to the hot, rocky environment. Crisp, tender pieces of meat with leafy greens makes a good, light meal-great for the summer when it's hot outside and fresh greens are available.
I used a selection of wild greens from in and around the garden here as I eat a lot of them during the season, but you can use just about any leafy greens. If you don't have any wild greens you like to eat, you could use a combination of spinach, chard and kale and it will work out fine, but a blend gives a mix of textures to the greens. If you like wild greens, purslane, lambsquarters, mallow, dandelions, watercress and amaranth are some of my favorites to use in dishes like this. In the most traditional versions, wild fennel fronds are added to the mix.
Another part of this recipe I have to mention is how the meat is cooked. In many similar, traditional goat and lamb recipes I've come across from around the world, the meat is often cooked twice, first by slow-cooking in liquid until very tender, twice by frying/sauteing in a pan to crisp them up after cooking. If you like tender pieces of browned, crisp meat, make sure to make a note of the technique in the recipe below-it's a great one to know for slow-cooking cuts of any meat. Shoulder is probably my favorite, but just about any cut of meat can work-even lean leg roasts.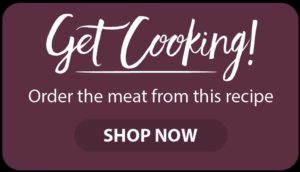 This recipe is by Chef Alan Bergo, the Forager Chef. A chef from Minnesota, Alan is a culinary industry veteran, former executive chef of acclaimed Lucia's Restaurant, and the Salt Cellar. Author of The Forager Chef's Book of Flora, he's one of the most respected voices in the world of foraging and wild food. He's best known as the founder of Forager Chef, his website focused on wild ingredients that reaches millions of readers each year. Learn more about Chef Alan and his hunt for mushrooms, wild and obscure foods at foragerchef.com. 
Looking to buy lamb or goat online? Shepherd Song Farm: Grass to table. We raise lambs & goats traditionally, humanely and sustainably. 100% Grass Fed, Pasture Raised, Never Confined, no Hormones, Grains or Animal Byproducts. Born, raised and processed in the U.S.A. Good for you and good for the environment.
Print Recipe
Goat Tsigarelli
Twice-cooked goat with traditional Cretan-style wilted greens, with paprika, onions and lemon.
Ingredients
Tsigarelli
16

oz

mixed wild greens

or substitute a mix of kale, chard and spinach

2

large cloves garlic

finely chopped or grated

1

small

4 oz white onion, cut into 1/2 inch dice

2

oz

spring onions

sliced into 1/2 inch pieces

4

oz

fennel or carrot greens

stems removed

5

Tablespoons

extra virgin olive oil

4

teaspoons

mild paprika

See note

Pinch

of cayenne pepper

or crushed red pepper flakes, to taste

Kosher salt

as needed for blanching and seasoning
Lamb
1

lb

lamb or goat stew meat

preferably shoulder

1

teaspoon

salt

2

Tablespoons

cooking oil

separated

Lamb stock or water

to cover, about 3 cups
Instructions
Lamb
Combine the lamb pieces with the salt and allow to rest overnight (optional).

The next day, brown the lamb pieces in one tablespoon of the oil in a 3 quart or similar sauce pot, then add stock or water to cover (about 3 cups) bring to a simmer, then turn the heat to the lowest setting, cover, and cook until the meat is tender, about 1 hour. Allow the lamb pieces to cool in their liquid, then remove and pat dry before cooking.
Tsigarelli
Bring a pot of salted water to a boil and blanch the greens and fennel or carrot leaves for 30 seconds to one minute, or until they're tender and taste good to you.

Remove the greens to a tray, spreading them out to cool naturally. If your greens are longer than 3 inches, chop them roughly. Squeeze the greens of their water and reserve, it is ok if a little water still clings to some of them, as it will help the pan not dry out as they cook with the oil and onions.

Meanwhile, cook the garlic in the oil until it begins to turn golden.

Add the onions to the pan and cook for 2 minutes more. Add the paprika, cayenne or red pepper, along with a pinch of salt and cook a minute more. Add the greens, stir to coat with the oil, and adjust the seasoning for salt.
Finishing and serving
To finish the lamb, heat the remaining tablespoon of oil in a heavy pan, and brown the pieces of lamb. Arrange the pieces of lamb on top of the greens in the pan, and allow guests to serve themselves.
Notes
Paprika  I'd wager that hot paprika (not mild as I use here) is the more traditional seasoning used here, but I don't know many people that keep it around. You can definitely use hot paprika for a traditional touch, but it will be much more spicy. I use a combination of mild paprika and cayenne in the recipe to get more flavor from the paprika, without the heat excess heat that you would get from using hot paprika alone.