Smoked Lamb Kidney Treats for Dogs
Want to make your own lamb kidney treats for dogs? It's easy—all you need is a smoker, and some lamb or goat kidneys. Kidneys are a natural part of the diet that a dog's inner wild canine craves, they're also cheap, easy to cook, and are something you can feel better about serving as a treat compared to heavily processed food from a store.
Where to get kidneys?
The hardest part is probably finding good, high quality kidneys. You local ethnic market, especially Middle Eastern markets will carry lamb and goat kidneys, Asian markets may carry more beef and pork. The only thing to watch out for, is that buying kidneys and other offal from a local market can be risky, since organ meats have a shorter shelf life compared to other meat, like muscle tissue in a leg or a neck bone, for example. Your local butcher can probably get some lamb or goat kidneys for you through a special order, too, but you'll be at the mercy of their timeline. Thankfully, Shepherd Song has lamb kidneys for sale, twenty-four hours a day, seven days a week, and we ship across the country. Our kidneys are popular, but we generally have them in stock.
Safety Note
Kidneys contain purine. If your dog is prone to kidney or bladder stones, you will want to check with your veterinarian before introducing kidneys regularly to their diet, although a few here and there in small amounts as a treat won't hurt. When in doubt, consult your veterinarian.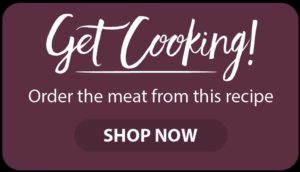 This recipe is by chef Alan Bergo. A chef from Minnesota, Alan is a culinary industry veteran, former executive chef of acclaimed Lucia's Restaurant, and the Salt Cellar. Founder of the website Forager Chef, he's best known as a respected authority on Midwestern foraging. Learn more about chef Alan and his hunt for mushrooms, wild and obscure foods at Forager Chef®. 
Looking to buy lamb and goat kidneys online? Shepherd Song Farm: Grass to table. We raise lambs & goats traditionally, humanely and sustainably. 100% Grass Fed, Pasture Raised, Never Confined, no Hormones, Grains or Animal Byproducts. Born, raised and processed in the U.S.A. Good for you and good for the environment.
Print Recipe
Grass-Fed Lamb Kidney Treats for Dogs
Grass fed lamb or goat kidney treats are smoked, cooled, cut into pieces and served as an all natural treat for your dog.
Instructions
Soak the kidneys in water for 24 hours in the fridge, changing the water once or twice if you can remember.

Smoke the kidneys for 1.5 hours at 250 F, or until they hit a temperature of 150F, then cool and refrigerate or freeze.

To serve the kidneys as a treat, I like to pull a frozen kidney from the freezer, let it thaw, then cut into 4 pieces (a convenient size your dog can easily eat).

Serve one piece as a treat, or supplement to a meal. The smoked kidneys will last for 3 days after thawing.