Sous Vide Lamb Leg
Lamb leg sous vide is a holiday show stopper & easier then a holiday turkey or ham. The lamb leg with shank-on is rubbed with just salt, pepper and mustard powder & slow cooked for 24+ hours. No hassle, just cook it at 131 F and make some side dishes at your leisure. Since this beautiful cut is cooking at such a low temperature you are going to get that super tender texture as you would with a pot roast, but slow cooking sous vide allows the meat to never go above 131F, which keeps it from over cooking! It really is the best of both worlds. It can cook up to a few more hours, too, so it's really easy to execute, and forgiving if you have other commitments throughout the day. Once all your other sides are ready just remove leg from the sous vide and roast to put some color on it. Prepare with any sides you like–we went with some simple potatoes & tomatoes with hummus. You'll need a sous vide cooker to make this recipe. We like this model from Annova, but there's many different ones on the market you could try.
Looking to buy lamb or goat online? Shepherd Song Farm: Grass to table. We raise lambs & goats traditionally, humanely and sustainably. 100% Grass Fed, Pasture Raised, Never Confined, no Hormones, Grains or Animal Byproducts. Born, raised and processed in the U.S.A. Good for you and good for the environment.
This recipe is by chef Ben Spangler. Hailing from Minnesota, Ben draws from his Midwestern roots to create dishes that are unpretentious and delicious. Ben has competed on national television for the Food Network and appeared on local Minneapolis food networks. He is currently working on a new ice cream concept in Minneapolis. Chef Ben Spangler www.benimagination.com Video By: BSPAD www.bspad.com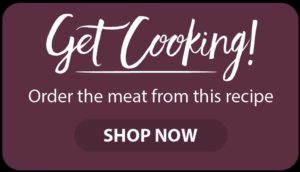 Print Recipe
Sous Vide Lamb Leg with Mustard
Legs of lamb, slow cooked until tender using sous vide, rubbed with mustard.
Ingredients
1/2

cup

Mustard Powder

3

T

Salt

2

T

Black Pepper

2

T

Fennel Seed

6

oz

Balsamic Vinegar

1

bag

Potatoes

3

sprig

Rosemary

10-20

Tomatoes on vine(small)

2

oz

Evoo
Instructions
Rub salt and pepper on leg of lamb and then dust with mustard powder
Cook the Lamb Leg
Place in a sous vide bag and remove as much air as possible and cook
at 131 F

while meat is cooking over night cook potatoes in a pot with cold
water and bring to a slight simmer

once tender just turn off and allow to cool to temp. (you can double check these once they are cool by breaking them open or while they are cooking Peirce with a knife), I prefer golden potatoes for this application

remove from the water in place in roasting pan and smash them down

season with salt and pepper & rosemary and tomatoes and wait for the meat!

Sous Vide @ 131F 24-30 hours
Serving
Take the meat out from the bag and allow to rest on a towl for a few min, Remove Frenched Meat and place on top of potatoes & tomatoes and drizzle with EVOO and roast in the oven at 450F for 15 min. or until golden brown. I used it on top of a pizza stone so the potatoes on the bottom of the pan would crisp up.

While roasting take meat bag juice (yes very attractive term) and place them on a pot and add balsamic vinegar until it turns into a thick paste. Remove from heat and add it to the meat out of the oven and garnish with cilantro!
Video