Grilled Lamb or Goat Heart
Heart is one of the easiest parts of lamb or goat offal to enjoy, and this simple grilled lamb heart recipe is a great example.
The inspiration for this came from one of the cuisines that's closest to my heart: Latin America. Throughout my career as a chef in the Twin Cities metro area, I had many employees from South America, and one of their secrets I borrowed is a simple marinade of garlic and cumin. While it could be found in a number of different places, this particular one was described to me as Ecuadorian.
Funny enough, the original recipe that Carmela (a member of my dish crew from Ecuador) described was not for lamb or goat hearts, it was for guinea pig. She mentioned the flavor combination in passing one day as I asked her about how they prepare "cuy". Eventually I bought a guinea pig from her to try one out for myself, but my girlfriend got too attached to it, and that's a whole other story.
Even though I didn't get to try guinea pig, I did remember the flavor combination she told me to use on them, and it's great for just about everything. Hearts don't need a lot to taste good, especially Shepherd Song ones, but a little garlic and cumin nuance makes them irresistible.
As I grilled the hearts over my wood fire and photographed the finished dish here, one of my friends showed up with his 3 young children (all of whom were heart-eating skeptics). I passed around plates of grilled lamb heart to the kids, ages 5-13, and all of them greedily gobbled up the slices until there wasn't anymore to snack on.
The recipe here is just a simple way to marinate and cook the lamb or goat hearts, the other things you serve it with are up to you. The pictures show a few things that my South American co-workers would often request in our staff meals: simple roasted sweet potatoes, and cabbage slaws flecked with cilantro. A salsa like tomatillo salsa verde is great if you can find some, or if you have a brand you like, but the grilled lamb hearts would be just fine with a wedge of lemon too.
Try it the next time you're craving something new.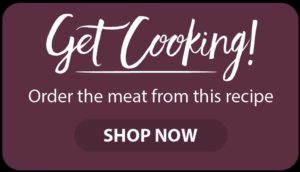 This recipe is by chef Alan Bergo. A chef from Minnesota, Alan is a culinary industry veteran, former executive chef of acclaimed Lucia's Restaurant, and the Salt Cellar. Founder of the website Forager Chef, he's best known as a respected authority on Midwestern foraging. Learn more about Alan and his hunt for mushrooms, wild and obscure foods at Forager Chef. 
Looking for grass-fed lamb and goat online? Shepherd Song Farm: Grass to table. We raise lambs & goats traditionally, humanely and sustainably. 100% Grass Fed, Pasture Raised, Never Confined, no Hormones, Grains or Animal Byproducts. Born, raised and processed in the U.S.A. Good for you and good for the environment.
Print Recipe
Grilled Marinated Lamb or Goat Heart
A simple South American flavored grilled lamb or goat heart. Serves 2-4 as a light entrée, consider having a soup beforehand, or some additional vegetables or meat to make it more filling.
Ingredients
2

lamb or goat hearts

about 6 oz each

¼

teaspoon

kosher salt

1

Tablespoon

cooking oil

¼

teaspoon

fresh ground black pepper

or 10 cranks of the mill

1

medium clove garlic

grated, pressed, or mashed to a paste

½

teaspoon

fresh ground cumin
Instructions
Marinate the hearts
Trim the fat from the top of the hearts with a sharp paring knife (some may prefer to leave it on. Remove any remnants of the central vein, if any.

In a container such as a bowl you can refrigerate the hearts in, mix the marinade ingredients, then add the hearts and turn over in the mix well to coat.

Refrigerate the lamb hearts overnight or for at least a few hours, even 1 hour will make a difference in the flavor.
Cooking
To cook the lamb hearts, oil a grill grate over a hot fire, preferably made from wood, put the hearts on, and cook until lightly charred and just medium doneness, about 2 minutes per side. They should be hot and blush red throughout.

Cut each heart in half vertically to make 4 pieces, then slice and serve in four portions. See note for serving and accompaniment suggestions.
Notes
*Note
Pictured this is served with a simple Latin American-inspired coleslaw with shredded carrots and cilantro, lemon and oil, a few sweet potatoes/yams, and tomatillo salsa verde.