Lamb or Goat Kawarma
Kawarma is a traditional dish made from tender chopped lamb, typically served with hummus, but the origins of the recipe are much deeper and rooted in tradition. In the days before refrigeration, fatty pieces of meat would be salted, cut into small pieces, and then slowly cooked until the fat renders. After the fat was rendered, the meat would be preserved in it to cover. As long as the meat was completely covered with fat, no air, and with it, bacteria, could get in to spoil the meat. Similar processes, or preservation methods known as "air-exclusion" have been used around the world in various cultures.
During the season when there was no fresh meat, the pieces of lamb could be ladled out, cooked (which serves as an additional layer of sterilization) and served with a number of traditional dishes. Typically you'll see references to dishes of the kawarma served with hummus, but another great version is shakshuka, or a type of spicy egg dish with tomatoes and hot chilis.
At home, you can easily make a small batch of kawarma with our grass fed lamb or goat, using some of our rendered tallow, or even substituting oil in a pinch. Tallow is preferable though, since it firms when cooled, allowing for the best air-tight seal after cooling and refrigerating. After slow-cooking in the oven, you can ladle out the pieces of slow-cooked, lamb, fry them a bit, and add to anything you like, but we recommend them with eggs, per chefs recipe, but doing a google search for kawarma can show you some additional ideas. Give it a try when you have some extra fat laying around!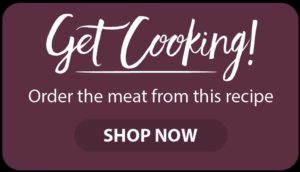 This recipe is by chef Alan Bergo. A chef from Minnesota, Alan is a culinary industry veteran, former executive chef of acclaimed Lucia's Restaurant, and the Salt Cellar. Founder of the website Forager Chef, he's best known as a respected authority on Midwestern foraging. Learn more about Alan and his hunt for mushrooms, wild and obscure foods at Forager Chef. 
Shepherd Song Farm: Grass to table. We raise lambs & goats traditionally, humanely and sustainably. 100% Grass Fed, Pasture Raised, Never Confined, no Hormones, Grains or Animal Byproducts. Born, raised and processed in the U.S.A. Good for you and good for the environment.
Print Recipe
Lamb or Goat Kawarma
Equipment
Mason jar or other tall container
Ingredients
1

lb

lamb or goat shoulder meat or stew meat

cut into ½ inch pieces

1

teaspoons

9 grams kosher salt

1 ¾

cups

rendered lamb fat

cooking oil can be used but is a poor substitute

¼

teaspoon

Baharat seasoning

optional
Instructions
Combine the diced lamb or goat meat with the salt and Baharat and allow to marinate overnight.

The next day, sweat the meat in the pan you'll put in the oven, such as a 2-3 quart sauce pan, but do not brown it, just cook it gently and stir so the meat doesn't stick together.

Add the fat to the pan, and bake for 2 hours, then cool and store in a container like a mason jar.

For the best flavor, allow the qwarama to age in the refrigerator for at least a week before using.
Lamb or Goat Shakshuka
Ingredients
½

cup

lamb or goat kawarma

see above

1 28

oz

can whole peeled tomatoes

¼

cup

sliced yellow onion

3

large cloves

10 grams garlic, sliced thin

¼

cup

lard from qwarama or cooking oil

1

serrano chili

plus more to taste

Fresh cilantro

for finishing

1

small red bell pepper

seeded and diced ½ inch

Kosher salt

to taste
Instructions
Remove three tomatoes from the can, squeeze their juice and seeds out into a bowl, then coarsely chop and reserve. Puree the rest of the tomatoes and their juice in a blender or with a stick blender, then strain to remove the seeds (optional).

Sweat the garlic and lard until the garlic is golden brown and aromatic. Do not allow the garlic to burn. Add onion and cook, then add the bell pepper and cook for a few minutes more. Add the chopped tomatoes and the tomato puree, season with a good pinch of salt, bring to a simmer and cook for 10 to 15 minutes. From here the tomato sauce can be made ahead of time, and, we recommend doing that.

To serve, preheat an oven to 350. In a 10 inch pan, heat the lamb or goat kawarma in it's fat and brown lightly, then add 1.5 cups of the shakshuka sauce, bring to a simmer, and add 4-6 eggs, nestling them in the sauce so they stay separate. Bake for 10 minutes or until the eggs begin to set, then remove the pan, cool for a minute or two, and serve, preferably with crusty bread or toast for extra sauce.